We are a Mobile DIY Workshop
Never heard of a mobile DIY workshop before? No worries, let us explain. We bring the pARTy to you, and together we will give you all the tools and supplies you need to turn unfinished projects into a beautiful, personalized piece of art.

We are currently solely mobile, with hopes of eventually opening a local studio. For now, we are traveling the Greater Madison area for Private Parties as well as Public Workshops at local venues.

-We bring all of the paint and stain, supplies, tables, and a creativity coach to lead the way! We set up, teach, clean up, and even take the trash with us!

-You will arrive to find your pre-ordered project and personalized vinyl stencil along with all of your supplies, and an apron to protect your clothing.

-Once everyone has settled in, we will begin. A typical class will last for 2.5-3 hours. Larger pieces and furniture projects may last up to 3.5 hours.

-Our Creativity Coach will guide you through the process, from start to finish. We will also help you with the selection of stain and paint color options. We will be hands-on throughout the entire workshop, but if at any time you have questions or need help, please let us know! We are there to HELP YOU!! 
Local Workshops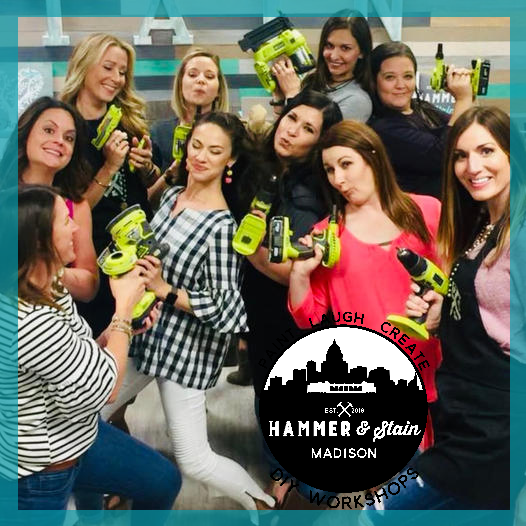 NOW OFFERING FOREVER JEWELRY
Enjoy forever jewelry with loved ones, celebrate special occasions, and bring people together.
Book your private event with hammer & stain Madison
Host a private DIY workshop
with your friends, co-workers, or family! Choose from a variety of projects for your group and pick a date and time that works best with your schedule.
1. We provide all the materials needed to complete a project. Each guest will leave with a beautiful, one of a kind, and fun piece!
2. Our amazing creativity coach gives you guided instructions through the entire workshop.
3. Pick a date and time that works best for you!
4. We handle the set up and clean up, so you can spend your time enjoying the party!!!! And we come to you.